Assi Haan Yaar Punjabi (2014) Movie HD Wallpapers – Here Movie HD Wallpapers Provides you the Free Latest Movie Photos, Film, HD Movie Wallpapers, Images, Photos, Pictures, Pics, for your Desktop, Laptop, PC, Android Phones and Smartphones.Click on Assi Haan Yaar Punjabi (2014) Images To view the Wallpaper click on Wallpapers to open in new tab for the full size. Don't Forget to Share this post on Facebook, Google+, Twitter, Pinterest etc.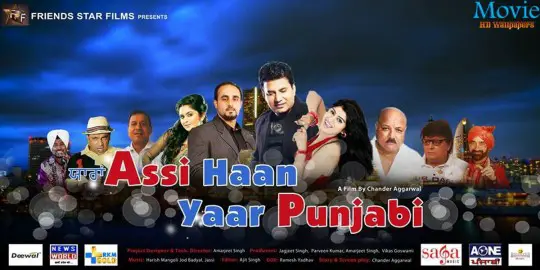 Starring – Assi Haan Yaar Punjabi (2014)
Yara Assi Haan Yaar Punjabi is a Punjabi movie, releasing on 31st Jan. 2013. with lead famous singer Manjeet Rupowalia, Harpal, Anamika, Kamaljeet Kaur, Satish Koul, Aroon Bakshi, Ssurinder Sharma, Jasneet Kaur, Bhotu shah, Suca Amli, Kamal, Chetan Sood, Kumar Vikas goswami, Uday Gill etc.
Directed By – Chander Aggarwal
Produced By – Jagjeet Singh, Parveen Kumar, Amarjeet Singh & Vikas Goswami